Recall Alert
U.S. Consumer Product Safety Commission
| | |
| --- | --- |
| Office of Information and Public Affairs | Washington, DC 20207 |
---
FOR IMMEDIATE RELEASE
October 8, 2003
Release # 03-553P

Bicycle Recall Hotline: (700) 555-4141



CPSC Announces Voluntary Recall of Bicycle™ Human Transporters
The following product safety recall was conducted by the firm in cooperation with the CPSC.
Name of Product: Bicycle
Units: Approximately 6,000,000,000
Manufacturers: Cannondale, Drek, Giant, Klein, Trek, Specialized, LeMond, Seven, Richey, Santa Cruz, Raleigh, Gary Fisher, Marin, Mongoose, Litespeed, Softride, GT Bicycles, Schwinn, KHS, Salsa, Norco, Merlin, Ibis, Look, Cervelo, Fuji, Serotta, Alex Moultan, Bianchi, Yeti, Rocky Mountain, Tomac, Pace Racing, Foes Racing, Colnago Ernesto & C. Srl, Co-Motion, Giant, Airborne, Huffy, Orange Mountain, Jamis, Quintana Roo, Pinarello, Mountain, Dawes, Pedersen and Solling, Aegis, Les Cycles Balfa, Titus Titanium, Vuelta USA, Planet X Mountain Bikes, On-One Bicycle Products, Arrow Racing, Be One Bikes, Torelli, Raleigh Canada, Epic, Psycle, SOMA Fabrications, Trailmate, Truner, Dean, Da Bomb, Merida, Ionic Mountain Bikes, Katarga, Boulder, Ventana, Sintesi, Meridian Bicycle Works, Mrazek, Lee Cougan, Scapin, Lens Sport, Cas Bikes, Kronan Cykel, 24sevenbikes, Wheeler Bikes, Dynacraft Bicycles, .243 racing, Carraro Cicli S.p.A., Cheeta Cycles, The Solex Centre, GSR, Cramerotti, Van Dessel Sports, Bellesi, Ridley, Buffalo Composite Designs, Oyama Industrial Co. Ltd., Fondriest USA, Torker, Mission Cycles & Components, Rotec, Leader Bike USA, Shiznitt Bicycle Works, Edge Bikes, Monoc Cycles, Paul Hewitt Cycles, Frank Bikes, Landiseries, Kimbike, Pedroni Cube, Primatosport, Fly Sports, Tianjin Time Bicycle Co. Ltd., Simplon USA, Bruce Gordon, Agece Bikes, Atlantis, and others not listed including but not limited to bicycles created by consumers for themselves or other consumers.
Hazard: Under certain operating conditions, particularly when the bicycle isn't moving, the lack of angular momentum to stabilize the device allows the rider to fall. This can happen if the rider slows down abruptly, encounters an obstacle, or stops ride after receiving a red traffic signal.
Incidents/Injuries: CPSC has received 314,159 reports of falls that may be related to this condition, a large percentage of which sustained a head injury requiring stitches.
Description: This recall involves all models sold to consumers. In addition, units sold to law enforcement and other governmental agencies are also at risk.
Sold At: Rented and sold all over the world
Manufactured In: U.S.A. and other countries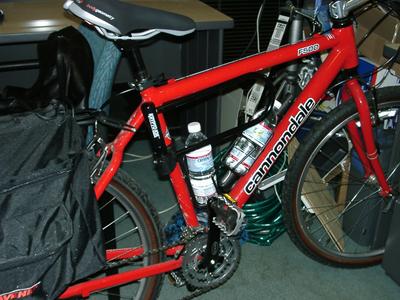 Remedy: Call the CPSC toll-free at 700-555-4141 between 8 am and 8 pm Monday through Friday (ET) for information on how to receive a free third or fourth wheel.
Riders are reminded that, even after the hardware upgrade, appropriate operating techniques are essential to rider safety.
Send the link for this page to a friend! The U.S. Consumer Product Safety Commission is charged with protecting the public from unreasonable risks of serious injury or death from more than 15,000 types of consumer products under the agency's jurisdiction. Deaths, injuries and property damage from consumer product incidents cost the nation more than $700 billion annually. The CPSC is committed to protecting consumers and families from products that pose a fire, electrical, chemical, or mechanical hazard or can injure children. The CPSC's work to ensure the safety of consumer products - such as toys, cribs, power tools, cigarette lighters, and household chemicals - contributed significantly to the 30 percent decline in the rate of deaths and injuries associated with consumer products over the past 30 years.
To report a dangerous product or a product-related injury, call CPSC's hotline at (800) 638-2772 or CPSC's teletypewriter at (800) 638-8270, or visit CPSC's web site at www.cpsc.gov/talk.html. Consumers can obtain this release and recall information at CPSC's Web site at www.cpsc.gov.
(This page is a parody of this announcement)