Recall Alert
U.S. Consumer Product Safety Commission
| | |
| --- | --- |
| Office of Information and Public Affairs | Washington, DC 20207 |
---
FOR IMMEDIATE RELEASE
October 8, 2003
Release # 03-553PS

Schwarzenegger Recall Hotline: (700) 555-4141



CPSC Announces Voluntary Recall of Schwarzenegger™ Action Hero
The following product safety recall was conducted by the firm in cooperation with the CPSC.
Name of Product: Arnold Alois Schwarzenegger
Units: Approximately 39
Variations: Hercules in New York, The Long Goodbye, Stay Hungry, The Villain, Scavenger Hunt, The Jayne Mansfield Story, Conan the Barbarian, Conan the Destoryer, The Terminator, Red Sonja, Commando, Raw Deal, Predator, The Running Man, Red Heat, Twins, Total Recall, Kindergarten Cop, Terminator 2: Judgement Day, Christmas in Connecticut, Last Action Hero, True Lies, Junior, Eraser, Jingle All the Way, T2 3-D: Battle Across Time, Batman & Robin, "Total Recall 2070", End of Days, The 6th Day, Dr Dolittle 2, Collateral Damage, "Liberty's Kids", Terminator 3: Rise of the Machines, The Rundown, Around the World in 80 Days, Joe's Last Chance. Sometimes called "Conan the Republican" and known for saying "I'll be back."
Hazard: Under certain operating conditions, particularly when the economy isn't moving positively, the public may decide to replace an existing governor with an action hero. In 1983, Arnold became a US citizen, so he became eligible to actually take this role.
Incidents/Injuries: CPSC has received 3,743,393 reports of conditions that may be related to this condition, a large percentage of which sustained a head injury during birth. Still another 12,683 reports mentioned another "Arnold" known for asking what people are talking about. Suspected cause is mild to acute brain damage as well. 15,454 reported to want their own state with blackjack and hookers.
Description: This recall involves all models sold to consumers. In addition, the motion picture association of America is evil.
Sold At: California Election Booths, primarily on 7 Oct 2003
Manufactured In: Austria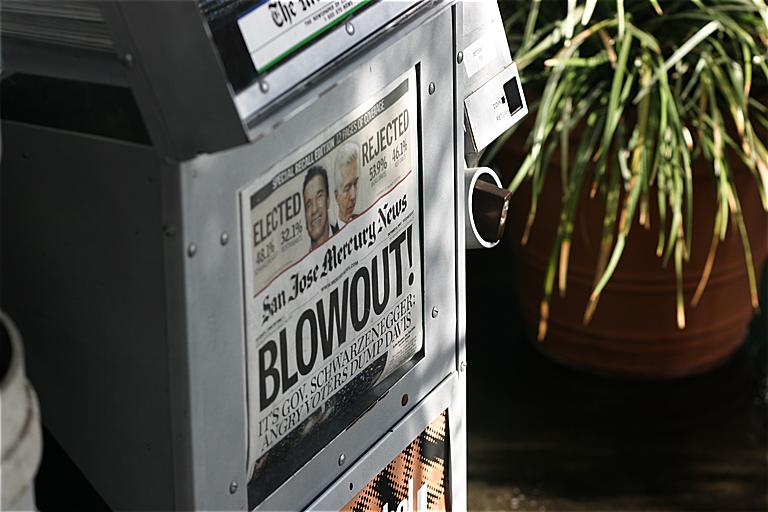 Remedy: Call the CPSC toll-free at 700-555-4141 between 8 am and 8 pm Monday through Friday (ET) for information on how to receive a free third or fourth wheel.
Riders are reminded that, even after the hardware upgrade, appropriate operating techniques are essential to rider safety.
Send the link for this page to a friend! The U.S. Consumer Product Safety Commission is charged with protecting the public from unreasonable risks of serious injury or death from more than 15,000 types of consumer products under the agency's jurisdiction. Deaths, injuries and property damage from consumer product incidents cost the nation more than $700 billion annually. The CPSC is committed to protecting consumers and families from products that pose a fire, electrical, chemical, or mechanical hazard or can injure children. The CPSC's work to ensure the safety of consumer products - such as toys, cribs, power tools, cigarette lighters, and household chemicals - contributed significantly to the 30 percent decline in the rate of deaths and injuries associated with consumer products over the past 30 years.
To report a dangerous product or a product-related injury, call CPSC's hotline at (800) 638-2772 or CPSC's teletypewriter at (800) 638-8270, or visit CPSC's web site at www.cpsc.gov/talk.html. Consumers can obtain this release and recall information at CPSC's Web site at www.cpsc.gov.
(This page is a parody of this announcement)